Featured Collection
This section doesn't currently include any content. Add content to this section using the sidebar.
CUSTOMIZED JOBS - NO MINIMUM QUANTITY!
We decorate apparel a number of ways - from traditional screen print to newer methods like white toner/digital printing and several other forms of embellishment.
Keep scrolling to read about each process and view the corresponding pics!
Contact us using the form on the bottom of the page for quotes or other requests.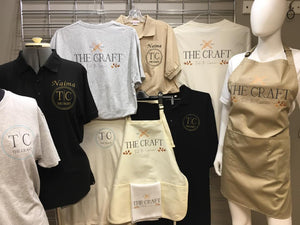 ---
Screen Print/Silk Screen
The most permanent method of printing, we offer a number of different options to accommodate a range of fabrics such as cotton, blended fabric, lycra & spandex and more. Screen printing gives you the most bang for your buck when ordering in bulk.
**Price list for screen printing found under main menu**
---
Heat Transfer
Smaller orders (20 items or less) are often completed using heat transfer vinyl and look great! You can expect at least a year or two from these garments with proper care. There are many types of heat transfer in addition to regular/matte, such as foil, glitter, ombre, embossed, and even flocked/raised with velvet type textures.
---
Embroidery
Embroidery offers a beautiful, timeless elegance in a range of exquisite thread colors. Great for dressier work uniforms as well as gifts!
---
Hats
Hats make a statement! Choose standard or puffy embroidery on a wide selection of structured or unstructured blanks with closed or open backs.
---
Bags & Totes
We offer a very large variety of totes, bags and duffles to meet your needs. Bags are receptive to several printing methods including screen print, vinyl, white toner or even rhinestones.
---
Sublimation
A vibrant, permanent way to decorate a wide variety of products. Tumblers, signs, flags and even some shirts can be sublimated, offering the longest and best durability available.
---
White Toner/Digital Printing
Great for very detailed graphics! Can be used for "one offs" or multiple print orders. We take our white toner prints a step further by sealing the graphic to the fibers of the material with a special binding sheet to give you as much wear as possible. You can expect approx 30 washes when cared for correctly.
---
Other products and embellishments
We also work with rhinestones, studs, and other hardware including LED/EL wire! There are so many different substrates - keychains, tea towels, stickers - we will help you bring your idea to life!